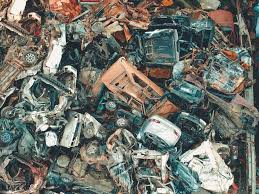 21 Jan

Economic Benefits of Recycling Metals: Top Reasons Why Scrap Metal Recycling is a Growing Industry

What are the economic benefits of recycling metals? Here are the top reasons why scrap metal recycling is a growing industry and how that can affect you.

Across the United States, the concept of "going green" has progressed far beyond simply being a catchy slogan. Businesses are quickly taking steps to become more environmentally-friendly in ways that go far beyond trying to convince customers passionate about the environment to continue shopping with them.

Going green might sound like a fad or trend, but the benefits of recycling metals have its positive implications for the workplace. Such positive implications are the incorporation of a healthy environment for employees, the reduction of unnecessary waste, and recognizing that businesses can set an example and lead the way on social change.

And that's true as well when it comes to businesses doing something else: reducing waste.

Going green can improve your company's overall efficiency. Reducing unnecessary waste is a great way to reduce a company's operating costs, while investments in the recycling of unwanted items is a terrific way to contribute to the environment. A fast-growing number of businesses are doing just that.

In fact, at a time when eco-consciousness is rising globally, industry analysts now believe recycling will play an important role in promoting "green awareness" trends in the future.

That's because as more and more businesses start recognizing the value of adopting environmentally-friendly measures as part of their corporate culture, it helps promote the global trend toward more recycling.

That's particularly true in countries experiencing rapid urbanization, but it's also true in the heavily industrialized United States, where steel tariffs imposed by China on American imports have increased the need to use recycled scrap instead.

And it may be time as well for the United States government to recognize the need to invest in scrap recycling, and the role that recycling plays in a booming economy.
Why is Scrap Recycling a Growing Industry?
Considering that most people think of recycling as dealing primarily with trash; it's become increasingly clear it's also a way to protect our environment. There's obviously more economic benefits of recycling metals than just the financial incentive. The scrap metal recycling industry is a great example. The scrap metal recycling industry continues to grow in part because there's a huge market for its end product: a better environment.
Recycling scrap keeps these metals out of landfills, where the toxins within them pose serious risks to the soil and water. But scrap recycling also has a lot to do with preserving natural resources and reducing our energy use as well.
A scrap metal recycling plant, for example, uses considerably less energy than extracting metals from their ore or raw state to make new metals.
We also know there's a finite supply of iron ore deposits and other basic minerals for steel production. Continuing to depend on raw materials will eventually hurt steel and other plants that overly rely on those metals and have not tapped into recycled metals as an alternative.
In fact, in more than a few nations, the steel sector is now being sustained through the recycling of scrap steel obtained from municipal solid wastes. The use of scrap in steel production, for example, has become an integral part of the steelmaking industry.
And that's a key reason why the scrap metal recycling industry is seen today as a trending business with plenty of growth potential in the future. As people become more eco-conscious and the government implements new environmental protections, the recycling industry seems certain to grow simultaneously.
And that presents an avenue for smart entrepreneurs to capitalize on this industry by investing in it.
The question is, do enough businesses and consumers recognize how scrap metal recycling can play a key role in both environmental protection and economic growth as well.
What is the U.S. Government's Approach to Recycling?
For the most part, the U.S. government has relied on state and local governments to handle all forms of waste management, and that includes recycling.
Efforts to legislate minimum national recycling standards have never made it out of Congress, in part because of geographic differences. The biggest call for federal assistance on waste management usually comes from densely populated states with less room to store trash, and with a strong need for proven alternatives like recycling.
Less populous states with a lot of extra land for landfills are not interested in federal mandates on recycling.
In fact, the first federal law to deal with solid waste management was the 1965 Solid Waste Disposal Act, which was part of the first Clean Air Act. But it made no mention of recycling.
Then, in 1976, Congress approved the Resource Conservation and Recovery Act, requiring the Environmental Protection Agency to establish guidelines for solid waste disposal and regulations for hazardous waste management. Again, it barely mentioned recycling, except to mandate an increase in federal purchases of products made with recycled content.
The EPA would later publish manuals on how to implement curbside recycling programs, although it left states needing to secure the funding for it on their own.
The shift toward more recycling began in the 1980s, when states like Massachusetts, Rhode Island and New Jersey became the early pioneers in the development of curbside recycling programs, followed by the introduction of "bottle bill" laws to encourage recycling of beer and soft drink containers.
Today, the EPA estimates that Americans recycle more than 30 percent of the waste they generate each year, triple the figures during the 1980s.
But while many Americans understand and appreciate the importance of recycling plastics, cans, bottles and newspapers, there's still plenty of educating to do about the need for consumers, businesses and municipal governments alike to join in boosting recycling rates for scrap metal.
First, the need is economic. A growing number of manufacturers today rely heavily on scrap for their production lines. Using recycled scrap is considerably more cost effective than obtaining new metals, and metals are a commodity that can be recycled repeatedly.
How Has the Booming Economy Impacted Scrap Recycling?
In a booming economy, with heavy public and private sector investments in new infrastructure projects, commercial and residential buildings, and consumer goods being made with metals, recycled scrap is a valuable commodity.
The fast-growing scrap recycling industry has created over 450,000 jobs and added millions in tax revenue – up to $10 billion for state governments. Recycling companies are making a bigger and bigger contribution to the economy these days, and they're expected to continue creating job opportunities, both directly and indirectly.
But beyond the economic benefits, more and more companies are turning to recycle because of the green credentials this adds to their company's image and reputation.
Scrap metal recycling is the process of taking unwanted metals and re-manufacturing or reproducing them for new products. Instead of extracting minerals and raw materials, metals from old cars, used appliances, leftover scrap from construction sites and many other sources – what we would otherwise presume to be junk – gets recycled and resold.
It's become a thriving business across the globe today because more and more manufacturers need their products. Manufacturing so many products without recycled scrap would be far costlier, and considerably less friendly to our environment.
Natural resources conservation gets promoted each time we turn to scrap recycling rather than mining for virgin ore, and recycling is a proven way to cut down on the pollution and greenhouse gas emissions that the mining process releases.
The recycling of scrap metals will also:
Prevent air, water and soil pollution

Save energy and raw materials

Conserve space in landfill sites
Unfortunately, far too much scrap continues to end up in landfills. That's one reason why both the state and federal governments have a future role to play in helping to raise awareness of the clear economic and environmental benefits of scrap recycling.
The federal government could also provide incentives, possibly in the form of tax breaks, for investments in new technologies that make the industry even cleaner and more environmentally beneficial for us all.
And there's no doubt about it: this industry is certain to grow in an era of accelerated urbanization and industrialization, and growth in infrastructural activities. These are global trends that show no sign of slowing down anytime soon.
In fact, by 2020, industry analysts say the scrap metal recycling industry is projected to grow to $406 billion U.S. dollars, thanks to the rapidly increasing need for metal products.
A lot of other factors are driving the growth in this industry. Rising incomes and the spending capacity of people in developing economies is one of them. Another is the fact that industries in need of metals are also growing: building and construction trades, metal fabrication, electronics, medical and health care equipment, automotive, and packaging are just some of the industries helping to drive the growth of the Metal Recycling Market.
In the United States, there are laws, and often strict ones, pertaining to waste management. But there are not as many laws pertaining to the need for scrap recycling. Still, public awareness about the need for efficient use of our natural resources, combined with the growing demand for recycled metals, may start changing that.
It's also a strong motivation for public and private investment in the future of scrap recycling, with an eye on new technologies within the recycling industry. Making the processing of new metal for manufacturing more sophisticated will help us address serious environmental challenges, and it's why we can all celebrate going green.
Conclusion
The economic benefits of recycling metals is increasing day by day. As our global economy keeps getting stronger, scrap recycling remains a fast-growing industry at a time when manufacturers have come to rely on recycled scrap to reduce costs when they manufacture new products.
And we all benefit from a healthier environment when we keep waste scrap out of our landfills.
Now we need to increase recycling rates for scrap metal, by encouraging consumers and businesses alike to take all their scrap to an experienced and proven recycling firm like GLE Scrap Metal.
As a premier scrap metal and electronics recycler, GLE Scrap Metal performs environmentally-friendly processing and recycling of all base and precious metals. Family owned and operated, the scrap metal you bring to GLE will be processed and supplied to global end-users to be transformed into new products.
Call GLE Scrap Metal today at 855-SCRAP-88 to request a quote.